Camera Gear - GoPro
Currently, I'm using a GoPro Hero 8 and I love it. Most of the videos you see on this site were shot with one of three GoPro cameras I've used. I'm going to cover those first, then I'm going to cover accessories and the other cameras. You can grab the Hero 8 on Amazon HERE.

We're going to cover these cameras I've used myself:
GoPro Hero 8
GoPro Hero 6
GoPro Hero Session
We're also going to talk about some important things you might need with your camera (SD cards, floating grip, etc.).
GoPro Hero 8
GoPro Hero 6
GoPro Hero Session
This was my first GoPro camera. I originally bought this so I would have something to record underwater videos while snorkeling. I've since used it for a ton of stuff. It shoots good quality video that generally comes out crisp and clear. It is relatively old now so you can usually pick it up for a relativly low price.
Shop around and don't pay too much for this since it is really old. Find the regular Hero Session on Amazon HERE and find the Hero 5 Session on Amazon HERE.
The Karma Grip
I was so happy with this. The Karma Grip works great with the Hero 6 and 7 but is NOT compatible with the Hero 8. Up to this point my videos had tendency to be pretty shaking. The Karma Grip made it easy to take perfectly smooth video. It compensates for just about anything. The Karma Grip takes up a fair amount of space. You will want to make sure you have enough space in your bag.
Accessories
GoPro Shorty Mini Extension Pole Tripod
GoPro The Handler Floating Hand Grip
XSories U Float GoPro Handle
Spare GoPro Batteries
GoPro Dual Battery Charger
SD Cards
Head strap
Chest strap
Sticky mounts
GoPro Shorty Mini Extension Pole Tripod
When I bought the Hero 8, I bought the slightly more expensive package which included an extra battery and this handle. I'm glad I did. The only thing I could possilly complain about is that it doesn't float. Thats fine since it is more compact and does a bunch of other stuff. When I want to go in the water I swap handles. Find it on Amazon HERE.
Works as a compact handle
Folds out into a really nice mini tripod
Extends into a selfie stick
Does NOT float
GoPro The Handler Floating Hand Grip (old version)
I bought the older verison of this handle a few years back. It is a little bit different from the newer version. They both float. The biggest difference, besides the look, is that the newer one uses a clip instead of directly using the bolt. That may be a bit more convienient but it doesn't quite feel right to me. I perfer the older version. Find the old version on Amazon HERE. Also, find the new version on Amazon HERE.
Floats so that you don't lose your camera while swimming
Nice comfy handle
Little bit bulkier than the shorty grip
Old version: uses standard GoPro bolt
New version: uses GoPro sliding clip
XSories U Float GoPro Handle
This works great. The only issue I have with it is that it is a bit more bulky than the official handle. Find it on Amazon HERE.
Floats so that you don't lose your camera while swimming
Little bit bulkier than the offical handle
Brighter so you can see it if you lose it (Mostly orange)
Spare GoPro Batteries
Batteries go fast. You don't want to be stuck without power. It is 100% worth it to have at least one spare battery. I generally carry two or three spares in addition to the battery in side my camera. I swap them out as needed. I've read that there may be issues with third party batteries. I have no idea how true that is. It may just be GoPro wanting you to spend money on official batteries. Either way, I opted for official batteries as I didn't think they were that expensive anyway. Find them on Amazon HERE.
GoPro Dual Battery Charger
Charge your spare batteries while using your camera
Charge two spare batteries at a time.
Find the battery charger on
Amazon HERE
.
This one may seem a little expensive but it is worth having. Without it you will have to charge each of your batteries one at a time, in your camera. Also, without this, you wouldn't be able to use your camera while charing your spare battery. You can get third party chargers but I just went with the offical charger. This was a few years back and I forget my reasoning but this is what I decided on. One way or another, at least get some type of separate battery charger so you don't have to leave your GoPro plugged in just to charge a spare.
SD Cards
Find these SD cards on Amazon HERE.
Make sure you get the right SD card if you are recording in 4K. Here is a chart that can help: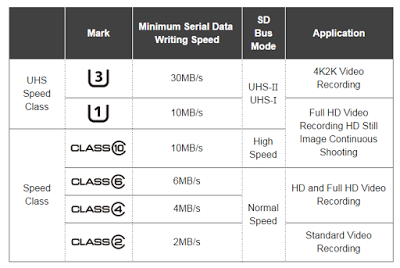 SD Card Case
If you have a lot of SD cards to manage this is really handy to have. It keeps them all in one place. You can put the full cards in the back and the empty cards in the front. It also helps to keep them dry if you are outdoors a lot (which you likely will be if you are using a GoPro). Find it on Amazon HERE.
Head strap
This is a great little accessory to have. It allows you to strap the camera right to your head. You can capture first person video while keeping both hands free. This is great for for kayaking. Pictured here you can see both the official GoPro head strap and the Amazon Basics version.
Chest strap
This allows you to strap your camera to your chest. This will place the POV a little lower than the head strap would. You could also potentially block your view a bit with your arms. It is great for situations where you don't want your camera on your head or potentially other situations.
Media Mods
Mods are available for the Hero 8. The are incredibly popular. I haven't tried them myself yet but I am planning to. We have been needing something like this for years.
Media Mod
Light Mod
Display Mod
Video Editing Laptop For 4K GoPro Videos
WARNING - If you are editing 4K video you will need a recent processor with enough power render the videos. The CPU does most of the heavy lifting so a good video card won't really save you here. I was actually shocked at what an Ivy Bridge (3rd gen) i7 wasn't able to do. I could barely play my 4K GoPro videos. An Ivy Bridge i5 basically doesn't work at all
Things to consider when picking out a system for video editing:
Can it play the video?
How fast can it render?
| | |
| --- | --- |
| 3rd Gen i5 | Can't really play, you may see a couple frames |
| 3rd Gen i7 | Super laggy playing video |
| 9th Gen i7 | Works great for playback and editing |
I've also built a Linux based desktop PC with a 9th gen i7. It works great for editing 4K videos. It has enough power to edit 4K videos and the software is usable. I've worked with Kdenlive and OpenShot. They are OK but I've run into too many issues and decided to buy a Mac. iMovie makes things so much easier. Once I outgrow that I may start using Final Cut Pro.
GoPro Hero 8 - Picture Gallery
GoPro Hero 6 - Picture Gallery
GoPro Hero Session - Picture Gallery
GoPro Karma Grip - Picture Gallery
GoPro Shorty Mini Extension Pole Tripod - Picture Gallery
GoPro The Handler Floating Hand Grip - Picture Gallery
XSories U Float GoPro Handle - Picture Gallery
GoPro Dual Battery Charger - Picture Gallery
Misc - Picture Gallery
Small Print
Amazon affiliate disclosure statement We are a participant in the Amazon Services LLC Associates Program, an affiliate advertising program designed to provide a means for sites to earn advertising fees by advertising and linking to amazon.com.