The Garmin eTrex 20x Hiking GPS
[A fantastic low-cost alternative to the high-end hiking GPS]
Author: Michael POWER
A dedicated GPS system for outdoor hiking doesn't have to break the bank. If you're looking for an inexpensive unit from a trusted company, the Garmin eTrex 20x has everything you need in an affordable package.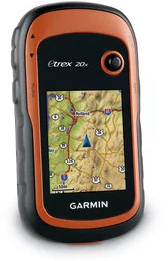 Don't be fooled by GPS systems offering more applications at a much higher price. Unless you need some extra feature the eTrex 20x does not offer, this inexpensive alternative will suit your interests without paying smartphone-level prices. While there are a few potential downsides to keep in mind, this guide will help you make an informed decision about your next GPS purchase.
You can grab it on Amazon HERE.
What it will (and won't) do
The eTrex 20x allows you to follow a premade hiking route, or navigate to a particular waypoint. You can also follow the maps loaded onto the device on a full-color screen. With its trail-ready exterior and rugged design, you don't have to worry about breaking your GPS if it falls on the ground.
These are the features you want in a hiking GPS, yet the eTrex 20x has garnered only a three-and-a-half-star review on Amazon. Most of the low-star ratings relate to the maps, or lack thereof. This is no reason to be put off from buying, as the solution is simple and free.
Advertisements for the eTrex 20x might imply you can map your hikes immediately after booting up your GPS. This is, unfortunately, not true. The eTrex 20x does include a base map with basic information, such as the nearest interstate and your general location.
To get the most value from the eTrex 20x, you'll have to upload topographic maps to the unit yourself. Luckily, this is an extremely easy process and the maps are usually free. Garmin would probably prefer you buy their maps, but it's not required. Hundreds of maps are available for free online, and most will work with this device.
Also be sure to use Garmin's free route-planning tool, Basecamp. This program lets you easily plan and share your hikes and other outdoor activities, and is a great addition to any adventurers arsenal.
Why Buy The Garmin eTrex 20x
Between the device's low cost, the availability of free maps, and the intuitive Basecamp tool, the Garmin eTrex 20x simply does everything you'd want from a standalone GPS device. While it's still recommended to always carry a backup (your smartphone can work as an alternative), the eTrex 20x provides everything you need for navigation at a reasonable price.
Of course, there are GPS systems that offer more features for a higher cost. Garmin itself makes a variety of systems with more bells and whistles. Let's walk through the features of the eTrex 20x and make sure it's the right fit for your trail style.
The Main Features
All the basic features you'd expect from a hiking GPS are standard on the eTrex 20x.
Follow, track, and mark waypoints to save the most important and interesting sights.
Track your speed, time, distance, and overall progress. Keep track of this data for future use.
Create your own hiking routes through Garmin Basecamp. You can then send these routes to your eTrex 20x for free.
Save your hikes online through Garmin Connect or upload them to your personal computer.
3.7 gigabytes of internal memory ensure you won't run out of space for maps. You can also store up to 2,000 waypoints and 200 routes. If needed, you can expand the memory with a microSD card.
Support for GPX files if you're geocaching. No need to input coordinates; hints and location data are displayed clearly.
Upload virtually any map, topographic or otherwise. Use your favorite site to find maps and easily upload them to your device. GPS File Depot should have you covered for free maps.
Weighs only 5.1 ounces. Won't add any notable weight to your bag or even your pocket.
240 x 320 pixel display. No trouble reading the large text or map.
One additional feature you won't find on a rival GPS is the proximity alarm. If you get close to a marked waypoint, or need to shift your pre-planned route, the eTrex 20x will chime and provide an alert. It's a helpful way to stay focused on your hike while letting your GPS keeps track of where you're going.
A Solid Signal
The last thing you want is a GPS that can't connect to a satellite. The eTrex 20x keeps track of GPS location and picks up a signal in seconds - faster, in fact, than some higher-end models. The device works with GPS as well as WAAS and GLONASS, the Russian equivalent to GPS. GLONASS can improve accuracy up to 20%, although it uses more battery than GPS alone. Disable these features if you're trying to increase battery life.
Consumer tests with the eTrex 20x put it within 20 feet of other GPS devices and equivalent smartphone apps. Remember, when you're on the hiking trail, it isn't essential to know your exact location at all times down to the foot. For knowing where you are at a given time, however, the eTrex 20x ensures you won't be lost.
Easy, Long-lasting Battery Life
It seems like every device nowadays, GPS or otherwise, uses some sort of charging cable and non-removable battery. Dealing with the various cords to charge your device can be a hassle, especially when you're outdoors. You don't have to worry about USBs or Firewire cables with the eTrex 20x.
Two standard AA batteries are all you need to power your eTrex 20x for an entire day. Depending on how much you use the device, or at what brightness, you may get anywhere from 22 to 24 hours of power. The device also might use a bit of extra power if you're somewhere where a signal is difficult to track, like a canyon or forest. LIthium batteries last longer and can provide at least 40 hours of power. Consider buying rechargeable AA batteries to reduce waste and save money.
If battery life becomes a concern, remember to lower the backlight and turn off GLONASS and WAAS. WIth lithium batteries and a clear line-of-sight, your eTrax 20x can last through 50 hours of consistent use.
Changing the batteries is as easy as turning a screw. If you drop the device, you don't have to worry about the batteries coming out.
Additional Features
Intuitive software and simple button design make it easy to use.
Waterproof and rugged. No need to fear the device breaking on an average hike. The buttons are large enough to press with wet hands or when wearing gloves.
Tracks sunrise and moonrise.
Customizable data fields and adjustable menu items. Keep your most used functions at the top of the menu page.
A clear screen with adjustable brightness. You won't be blinded at night when keeping it on dim, and the full brightness makes it easy to read in direct sunlight.
Again, one of the least-expensive options on the market. You don't have to spend a fortune to stay on track when hiking.
Drawbacks
As an inexpensive GPS, you'll find some features on pricier models that you won't see here. For one thing, the software itself isn't as flashy as a modern smartphone. You'll have to spend a few minutes getting used to the retro-style system, but once you've got the menus and buttons down, you'll be set.
A 2.2-inch display may not sound like much, but it's easy to read when you're on a hike. Things are a little trickier when trying to plan a route on a screen size that small. The best option is to plan your hikes via Basecamp, send them to the device, and use your eTrex 20x for navigation.
Garmin includes no lanyard, mount, or carrying case with the standard eTrex 20x model. You can buy a carrying case separately through Garmin as well as a screen protector if needed. Lanyards and mounts can be found for just a few bucks if you don't already have an extra lying around.
All that's included in the box is a USB cable (to connect the device to your computer) and an owner's manual, which is lacking in detail. Luckily the eTrex 20x is popular and frequently discussed online. You can easily troubleshoot on forums or with Garmin's support team should any issues arise. It's also why we wrote this guide!
Finally, Garmin's insistence on selling maps and subscriptions is a bit irritating. For a company that makes such great hardware, their reliance on map sales seems unnecessary. If you don't want to bother with the added cost, you can easily find free maps online. GPS File Depot is a great place to start.
The eTrex 20x vs Other Options
Whether you're using your eTrex 20x as a back-up or as your main device, it's important to know how it compares to other retail options. Let's compare Garmin's affordable device to its main alternatives.
eTrex 20x vs a Smartphone
The biggest benefit of the eTrex 20x is its durability. Our modern smartphones are sleek, thin, and prone to shattering when dropped. Even a popular case like the Otterbox can't offer much protection if your phone falls at the wrong angle. That's not to mention the poor relationship most smartphones have with water.
You'll feel much more comfortable holding your eTrex 20x in your sweaty or gloved hand than you would with a smartphone out on the trail. The battery life of the eTrex 20x also puts an iPhone to shame. GPS drains battery no matter what model phone you're using, and a dead battery on the trail is no use to anyone. Using your phone as a dedicated GPS can disable its other uses, and if you run out of battery you'll have no way to call or text.
That being said, a smartphone makes a perfect back-up to the eTrex 20x, if you use it sparingly and keep it safe. Longevity problems can be reduced by using a GPS app that works in battery-saving airplane mode. Try using an offline app like Gaia GPS in addition to your main device. You may not need it on your next hike, but you'll be glad you have it when you do.
The eTrex 20x vs a GPS Watch
Wearables are hit or miss when it comes to functionality, but are gaining popularity in the fitness market. The tiny screens make planning and navigation difficult, and the cost of a watch can be several times higher than an eTrex 20x.
For workout tracking and basic navigation, a GPS watch can't be beat. Some GPS watches also act as enviable fashion items all on their own. We can't say the same for the eTrex 20x, but then again, it's built for function, not fashion.
For everything we've covered above in our 'features' section, the eTrex 20x wins. If you have a GPS watch, definitely bring it on your next hike for the added peace of mind.
The eTrex 20x vs a Bigger, More Expensive Handheld GPS
The more you pay for a handheld GPS, the more features you receive. You may not need the additional bells and whistles, but they can be worth the added price if you're looking for a device that does more than navigation alone.
The main feature to pay extra for is a bigger screen. Garmin's Montana 680t, for example, offers a 4-inch touchscreen display - nearly twice as large as the eTrex 20x. For some users, this is worth paying three times the price.
The Montana 680t and other pricier handhelds also offer touchscreen displays while the eTrex 20x uses buttons. We still prefer the latter since they're easier to use with gloves on or when the device is a bit wet. That being said, Garmin does make a line of eTrex handhelds with touchscreens, such as the eTrex Touch 25. You'll pay a bit extra to remove the buttons.
If you're considering a touch screen, remember that the simple buttons and display of the eTrex 20x allow it a greater battery life. Touchscreens come at a power cost, and you may want the extra hours more than you'd like to remove the buttons.
Additional features not found on the eTrex 20x that you might consider include:
A camera, even though you probably already have one
Garmin's maps or subscription services, which are included with some devices. You can easily get by with the free alternatives.
WiFI/Bluetooth connectivity - tough to find on an outdoor trail!
A compass, altimeter, or other additional device that most hikers already own
Some people simply need a GPS with at least one additional feature. Perhaps you want your camera and your GPS in one bundle, or you prefer a larger screen. When it comes to basic navigation, however, the eTrex 20x will provide everything you need.
A more expensive GPS can also offer more accuracy. The eTrex 20x may show you a location 10 or 15 feet away from your waypoint, while a higher-end model can reduce this to just a few feet. It's not worth paying double the price, but if you want the most accurate signal at all times, you'll have to shell out a few hundred more dollars.
Finally, while the eTrex 20x is slightly less accurate than competing models, it's definitely among the fastest devices. The software is responsive and doesn't get bogged down with memory problems. You'll pick up a new location more quickly than a competing device, even if the process of typing in a location with buttons takes longer than a touchscreen.
The eTrex 20x vs The eTrex 30x
The eTrex 30x is obviously more advanced and comes at a higher price, but what does it actually offer that the 20x doesn't? Basically, a compass and altimeter. If you don't have either of those two essentials already then the 30x may be for you.
You can, however, get a compass heading with the 20x. You just have to be moving, since it's based on the GPS location. Similarly, the 20x uses GPS map data to find your altitude. The 30x has a built-in altimeter. The latter is more accurate, but only by a small margin. If tracking altitude is a concern, you probably already own an altimeter.
If you don't have a compass or altimeter, or if the integration is important to you, then the 30x may be worth the extra cost. Otherwise, don't spend needlessly for features you won't use.
Where To Buy The eTrex 20x
As with most hiking goods, you'll get the lowest price on Amazon. You can also read the reviews and check over 300 product questions asked by interested buyers. Take a look on Amazon and see if the device is right for you.
If you buy through one of the other sellers on Amazon, you may secure a lower price, but it comes with a risk. These third-party sellers may not be completely trustworthy or make returns difficult.
Consider buying your next GPS through REI as well. You'll have the option to pick up the device in your nearest store, or return it easily if there's any issue. REI offers 90-day returns on outdoor electronics, both in-store and online.
Because REI is a co-op, members receive an annual dividend of 10% back on eligible purchases. The membership costs $20, which is about the rebate amount you'll receive after purchasing the eTrex 20x.
The other option is to purchase directly through Garmin at their website, although this is the priciest option.
How To Start Using Your eTrex 20x
The eTrex 20x comes with a USB cable, which you use to connect your device to your laptop or PC. Other than the device itself and its manual, there's nothing else in the box. No case, no mount, no lanyard - you purchase those separately.
Once you've unboxed your eTrex 20x, follow these steps to get up and running:
Set up an account on Garmin Connect if you haven't already.
Install Garmin Express on your computer. It's free and works on both Windows and Mac.
Put two AA batteries in your device, plug in the USB cable, and open up Garmin Express.
Register your device through Garmin Express.
Garmin Express will ask to update your device. Click through the prompts and ensure your software is up-to-date.
Download Garmin Basecamp and go through the installation process. It shouldn't take more than a few minutes to get started with this free app.
Download the topographic maps you want to use from your favorite website. We recommend GPS File Depot, but any site you prefer will likely work.
Whichever site you use will have directions on installing the maps to your eTrex 20x. The process varies depending on the website and operating system.
Once you've put the maps on your device, open up Basecamp and go to Setup > Maps. Enable your new maps and disable the default map if you don't need it.
Customize your eTrex 20x to your preferred specifications. You may want to:

Turn off WAAS and GLONASS to increase battery life.
Customize your data fields.
Disable the default map.
Set your units (metric or imperial)
Turn on Battery Saver and set the screen timeout to your preference.
Using Your eTrex 20x
On the left side of the device you'll find the Zoom and Menu buttons, which are true to their name. To select options on the screen, use the joystick on the front of the device. Press on the joystick to select an option.
The backlight is the top button on the right side of the device. Below that is the power button, which will turn the device on and off with a long press. A short press adjusts the backlight and displays both battery and GPS level.
The menu displays the following choices:
Map
Where To? (plug in your destination and get going)
Compass, which works through GPS
Mark Waypoint
Trip Computer (displays data about your journey)
Setup
You can change the order of the menu options to put your most-used icons at the top.
How To Plan Your Route
You can plan your route through the device, though this can be a bit time-consuming because of the interface and small screen. Garmin Basecamp is a better, faster option for route planning.
Open up the software on your computer and install your free map of choice (or use a map bought through Garmin). The website you got the map from will have installation instructions. Open the map through Garmin Basecamp and start planning.
You can either set the start and end point and let Garmin show you the trail route, or draw a route manually. If you use the automatic option, you may have to adjust the points yourself to get them where you want. The manual option allows for more control, but also takes more time.
Create a new list in Garmin Basecamp. You can call it whatever you like, perhaps something like 'Transfer' or 'eTrex 20x Maps.' drag your map file into that folder. You should see your eTrex 20x connected already. Follow the steps to bring your route onto the device. From there, you're good to go!
Following Your Route
Following the route you made in BaseCamp works a bit like the GPS in your vehicle. Once you've made your route and sent it to the device, the unit will chime to alert you when you're off the trail or need to make a turn. You won't want to go through an entire hike listening to the alerts from your phone, but it's definitely a useful feature.
When you get an alert, look at your phone and follow the purple route line. The screen will turn on automatically following an alert. From there, it's all about enjoying your day on the trail, knowing you're on the right path.
Or Follow a Track
If you've uploaded a GPX track to your device through Basecamp, you can bring up the map and see where you are. The purple line is what you want to follow. This is useful if you go off-trail or need to know your next turn at an intersection.
Using Waypoints
Opening up the Waypoint function on your device allows you to set a proximity alarm. When you approach the waypoint, the eTrex 20x will chime and alert you to your location. Use waypoints for interesting sights or unmarked turns on the trail.
You can also easily mark waypoints on your map and navigate to them during your hike. Use the joystick to scroll through the map and press the joystick to set a waypoint. You can also set the waypoint to where you're currently standing. Navigating to a waypoint is as simple as following the unit's compass.
Troubleshooting and Getting Help
If you run into issues with your eTrex 20x, you have a few options to get support. Garmin's Support Page is the first place you'll start to get quick and professional assistance. Posting on Garmin's Subreddit can net you advice from other hikers and GPS users. Consider subscribing to the subreddit to enjoy a network of other device owners. The same can be said for Garmin's own user forum.
While Garmin includes a physical owner's manual with all of its devices, the small print size can make it difficult to read. You also might lose the manual at some point. Online manuals can be found here. It's always good to give the manual a read through before you set out on your first hike.
Other Useful Free Apps
Basecamp and a good source of free maps are really all you need to start using the eTrex 20x. That being said, there are a few apps more technical or experienced users may want to consider. Here are some of our favorites.
GPX Editor: As the name states, this program lets you edit GPX files. Change metadata, routes, tracks, waypoints - whatever you need to edit. The real-time preview is particularly useful.
GPSBabel: Since 2001, GPSBabel has allowed users to convert GPS maps and data between devices. If you have a device made by Magellan or a different company, you can transfer data easily from Garmin's eTrex 20x using this software, or convert the data to hundreds of other formats. It takes a little time to get up and running, but for a free program used by thousands, it really can't be beat.
JaVaWa Device Manager: If you want to check the health and safety of your Garmin device and its SD card, JaVaWa has you covered. This program will alert you to any potential issues and is perfect for troubleshooting or freeing up space on your device. Things get a bit technical if you try to browse through the device yourself, but it's wise to check up on your device's health from time to time.
All of these programs are free and have been tested to work with the eTrex 20x. Beyond Hiking
Most hikers enjoy other outdoor sports and activities that are perfect for a GPS. Winter sports such as backcountry skiing or trekking are a great opportunity to put the eTrex 20x to use. In particular, the simple interface and buttons make the device easy to use compared to touchscreens.
For extreme sports such as ATVing, the device's hardy build means you can bring it along with you. If it falls, you can go back and pick it up without worrying about functionality in the future. It would take a lot to damage the eTrex 20x, even compared to more expensive systems.
The Final Word
The eTrex 20x does what it promises - and that's about it. Luckily, it promises a lot. From accurate GPS location to long battery life, easy-to-use software and programs, and a near-unbreakable design, Garmin offers hikers and adventurers a low-cost way to keep moving without worry. There may be a few minor drawbacks, but at this price point, you'll be hard pressed to do better, or find a reason to spend even more on features you won't need.
Small Print
Amazon affiliate disclosure statement We are a participant in the Amazon Services LLC Associates Program, an affiliate advertising program designed to provide a means for sites to earn advertising fees by advertising and linking to amazon.com.